Celebrities who have passed on are among the latest to be endorsing Twitter Blue – as indicated by the blue badges of verification on their profiles. This gives their loyal fans on Twitter the chance to follow and interact with the profiles of their favorite deceased stars.
In memory of their legendary contributions, Twitter added a posthumous blue check to the accounts of Michael Jackson, Kobe Bryant, Anthony Bourdain, Chadwick Boseman, Norm Macdonald, Chadwick Boseman and among other celebrities. Interestingly, Twitter has decided to offer its verification service only to the profiles who pay for the subscription service while purging legacy verifications on Thursday.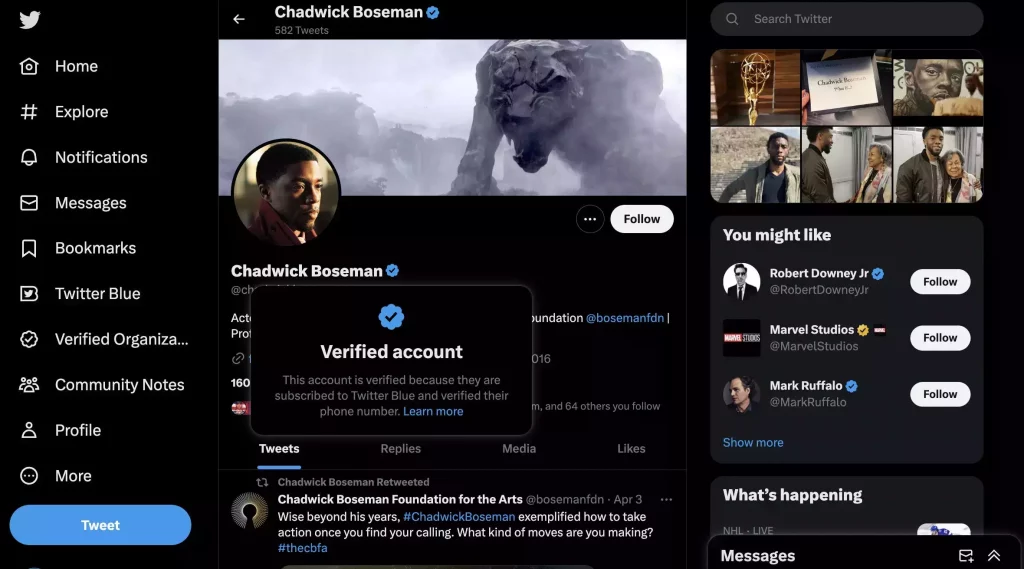 Boseman's ex-manager and the Bryant family's lawyer have yet to comment on remarks made by Elon Musk. The tech billionaire hasn't referenced the passed celebrity badges online, but he did apparently joke about those spearheading #BlockTheBlue – a Twitter campaign to silence subscribers to Twitter Blue by blocking them. With a laughing emoji, he dismissed reports that he gave his anti-Blue counterparts Verified Blue badges as false: "A troll, me??" Wanting to be a part of this dynamic conversation? Let me assist you!
The Blue Verified badge on a celebrity Twitter account is a surefire way to confirm the account's authenticity. However, it's quite an eerie sight when the vividly peculiar badge is spotted next to the name of a deceased celebrity. Could their accounts have been posthumously verified by someone close to the estate, or is there more to the story? While accounts like Bourdain's have remained inactive since their passing, the Verified Blue badge is a testament to their digital legacy, sparking conversation and conjuring up questions about their virtual afterlife.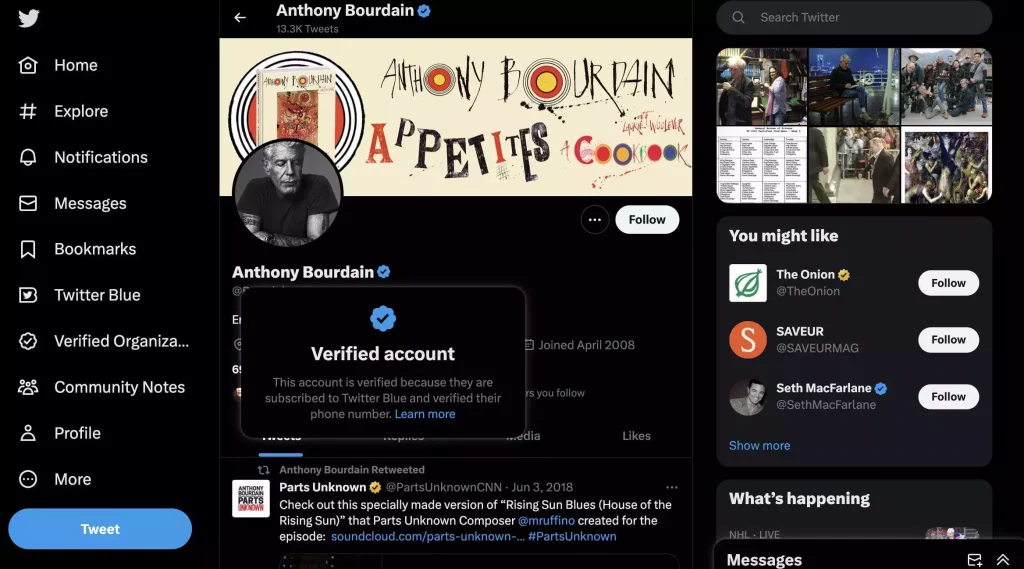 Twitter Blue's recent relaunch has been highly anticipated, featuring a plethora of exciting perks including a highly sought-after edit button and a public "verified" badge no longer restricted to celebrity accounts. However, TechCrunch reports that its earnings have been "underwhelming," bringing in just $11 million via mobile-based subscriptions since Elon Musk brought it back in December.
Also Read – Rolls-Royce's Stellar Plan: A Lunar Nuclear Reactor Base
Twitter Blue, a subscription-based service for $8 per month that offers features beyond the regular, has only managed to garner a few new subscribers since its relaunch. According to Programmer Travis Brown, the service has failed to appeal to the majority of Twitter's user base, with only around 600,000 accounts paying for the service. But that's not all — as a recent trend to block verified accounts paying for their badges is gathering pace. In response to its lack of success, Twitter has resorted to roping in celebrities to endorse the paid service; however, it remains to be seen whether that will change the users' perception.
Did you know that posthumous Twitter Blue badges might break the law by contradicting consumer protection rules against false endorsements? Under California's Civil Code 3344.1, using a deceased personality's voice, name, signature, or likeness for commercial purposes requires the person's approval, or else it may result in a whopping $750 penalty, or even greater compensation. Stay informed and aware of consumer rights!
For Twitter users, the coveted blue checkmark signifies prestige and elite status – that you're paying for Twitter's premium subscription, Twitter Blue. But Alejandra Caraballo, a clinical instructor at Harvard Law Cyberlaw Clinic, warns that adding it to large accounts without consent could result in misleading trade practices. In fact, if you've received a blue checkmark without knowing, you might be able to make a false endorsement claim against the platform. This news adds another layer to the ongoing FTC investigation on Twitter's deceptive trade practices. So, next time you come across a blue check account, remember, all might not be what it seems.
Considering that the blue check states that someone is subscribed to twitter blue and paying for a product, falsely adding that to large accounts may constitute a deceptive trade practice. Paging the @FTC.

— Alejandra Caraballo 🏳️‍⚧️🇵🇷 (@Esqueer_) April 22, 2023
It's unbelievable! On receiving a request for comment from Insider, Twitter's press email replied with a poop emoji! Meanwhile, Elon Musk remained tight-lipped, failing to respond to requests by the Insider for comment.