If you want to enjoy a pleasant cookout with your friends for BBQs, local gatherings or picnics, you should definitely think about various small but top qualities of grills to perform outdoor cooking. Even portable outdoor cooking grills are the best options if you want to enjoy a cookout in the patio of your property. In this blog post, you will get a huge list of various top qualities and fully functional yet portable grills to enjoy outdoor cooking in a hassle-free way.
George Foreman 5-Serving Multi-Plate Evolve Grill System with Ceramic Plates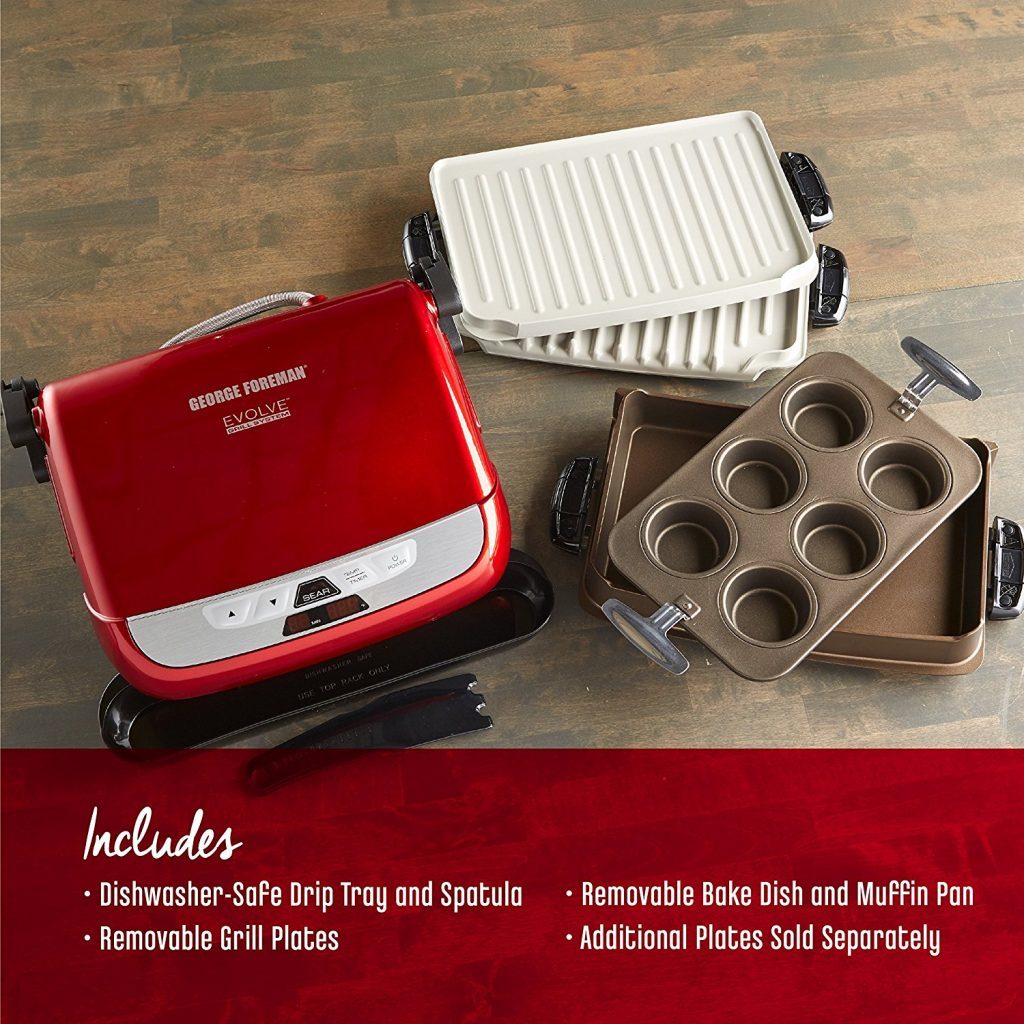 Bring the entire cooking center while you are out on a picnic with the outstanding George Foreman 5-Serving Multi-Plate Evolve Grill System.
This grill comes with 4-in-1 abilities and easy digital controls to change the way, in which you make your food.
In addition, you will get the opportunity to use ceramic grilling plates, i.e. durable options to meet your traditional grilling requirements by using chicken, steak, veggies and fish.
Moreover, you can use the grill as a baking pan or prepare muffin inserts, along with varieties of cooking tasks. 
This product can prepare varieties of foods, which has become possible because of digital time and temperature controls, along with searing options that can increase the temperature of the grill to maximum 500 degrees.
Specifications
| | |
| --- | --- |
| Features/Specifications | Details |
| Versatility | Combination of muffin pan and ceramic grill plates give the highest possible versatility |
| Cooking Angle is Adjustable | Grill is used as slope or by keeping it flat |
| Hinge | 1-inch of adjustable type of hinge |
| Digital Control Panel | Digital control panel to display grill temperature and cooking time |
| Removable Plates | Plates are easily removable and safe for dishwasher |
Char-Broil Performance 475 4-Burner Cart Liquid Propane Gas Grill- Stainless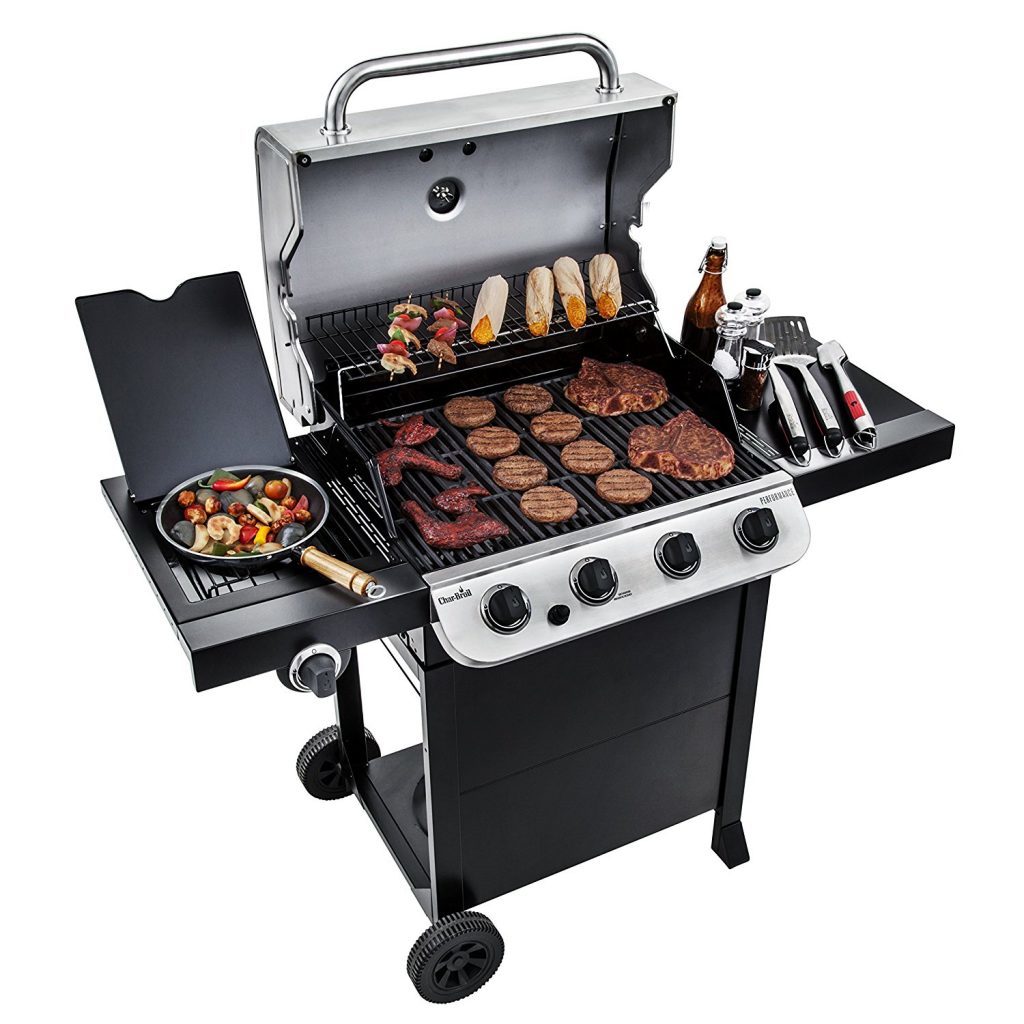 Try out for the 4-burner gas grill to deliver about 36,000 BTUs of heat across the cooking surface of 475 inches to accommodate various large meals to enjoy for your entire family.
Dimensions of the main cooking surface include 25.6 inches wide and 18.5 inches deep, while the product features grates made of cast iron and coated with porcelain to provide a rust resistant solution.
Moreover, because of the usage of coated cast iron, the grill avoids sticking to food items and allows easy cleaning.
In addition, the product has 10,000 BTU lidded type of side burner that acts as a perfect option for sauces and sides, while you may choose to fold down the grill's lid to safeguard the burner and provide increased workspace when the product remains in unused condition.
Furthermore, the inner side of the grill has four different top-ported steel made burners to give durability to the product and deliver the highest possible cooking performance.
If this is not enough, the product incorporates an electronic-based ignition system to facilitate reliable and fast startups with only a button push, while two different metallic shelves to assure increased storage as well as preparation space.
Specifications
| | |
| --- | --- |
| Features/Specifications | Details |
| Burner | 4-Burner of 36,000 BTU and Lidded Side Burner of 10,000 BTU |
| Primary and Secondary Cooking Options | 475 square inches of primary cooking combined with 175 square inches of secondary cooking |
| Material Used | Cast iron grate coated with porcelain |
| Durability | Stainless steel lid to assure product durability |
| Reliability and Fast Operation | Electronic ignition helps in fast operation and reliability |
Coleman 9949-750 Road Trip Grill LXE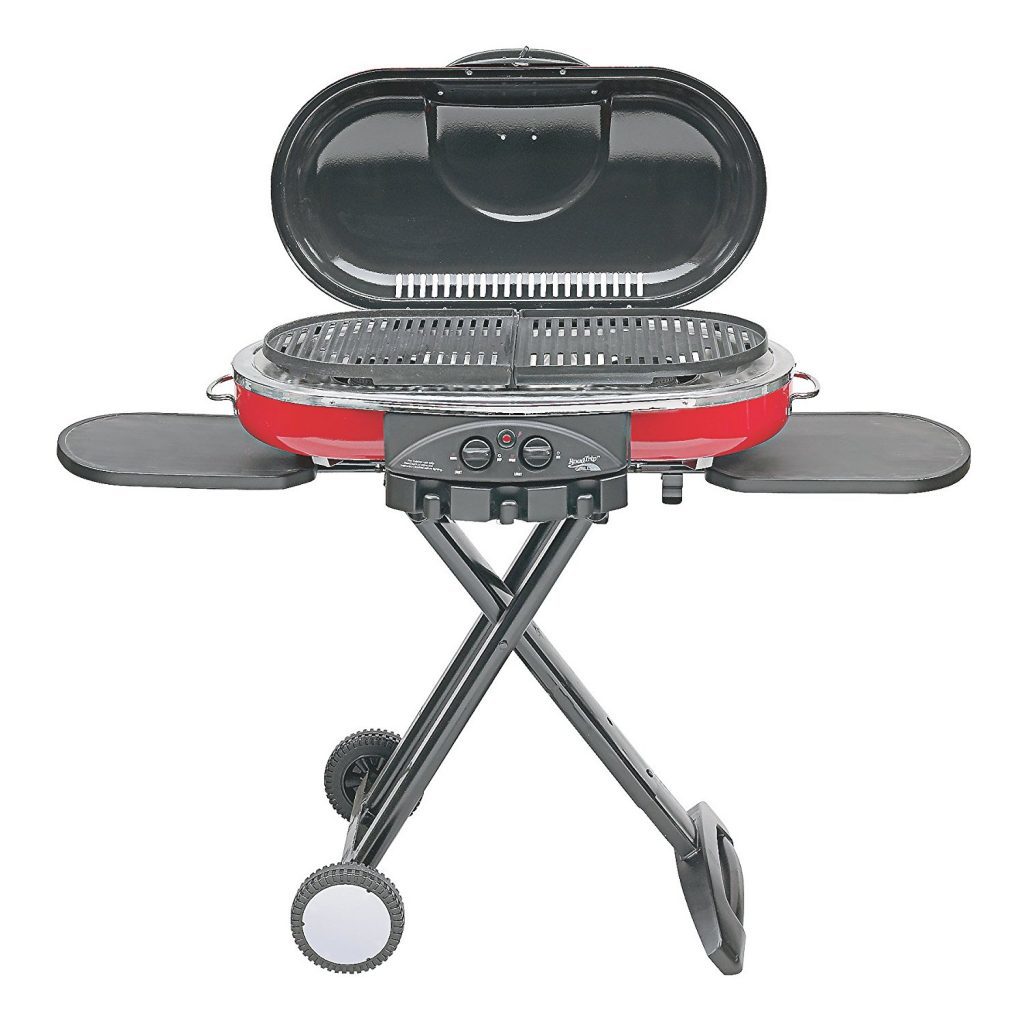 With the handy road trip and portable type of Grill LXE, you no longer have to manually carry heavy and bulky backyard yeasts to your picnic spot.
Instead, you should use the Coleman Propane Grill that comes with easy setup and tote around feature. You can fold and roll it by using your one hand easily to any of the favorite cooking spots and thereby, set up within only a few seconds by using the lift and locking system.
Moreover, the grill has durable cast iron type of grilling surfaces, while giving an option of a push button for igniting the matchless lighting system of InstaStart. The grill is perfect for tailgating, BBQs, camping, picnics and spending a night on a nearby patio.
Specifications
| | |
| --- | --- |
| Features/Specifications | Details |
| Portability | Categorized as a portable type of propane grill to use for camping, picnicking and tailgating |
| Heating Capacity | 20,000 BTUs heat across grilling surface of 285 square inches |
| Interchangeable Cook tops | Swaptop type of interchangeable cook tops to switch grill grates out for stove grates and griddles |
| Automatic Ignition | InstaStart button to facilitate automatic ignition of the cooking grill |
| Simple and Easy Design | Grill has collapsible design to allow hassle-free and easy transportation |
Char-Griller 3001 Grillin Pro 40,800-BTU Gas Grill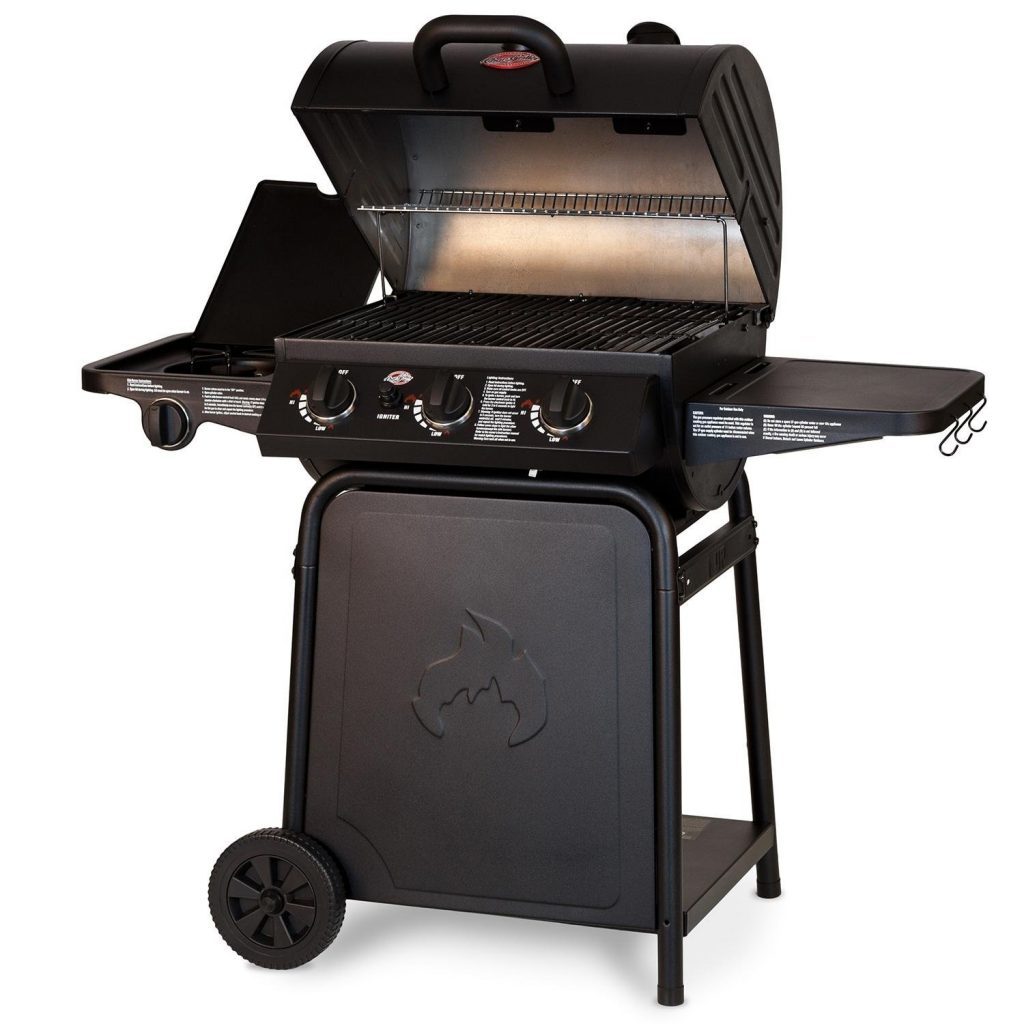 The griller has powder coating and durable steel metal to make sure about longevity outdoors.
In addition, the gas drill has less than 100pounds weight and comes with attached wheels to move easily across the yard.
Moreover, the grill operates at 40,800BTUs and the side burner operates at 12,000BTUs.
Along with this, you will get cooking areas of 630 square inches over the warming rack.
Specifications
| | |
| --- | --- |
| Features/Specifications | Details |
| Construction Material | Heavy steel |
| Grill Grates Structure | Grill Grates consist of cast iron coated with porcelain |
| Burner | 40,800BTU's of front burner with 12,000BTUs of side burner |
| Cooking Area | 630 square inches |
| Ignition | Operates via electronic ignition |
Hamilton Beach (25360) Electric Smokeless Indoor Grill & Searing Grill with Removable Plates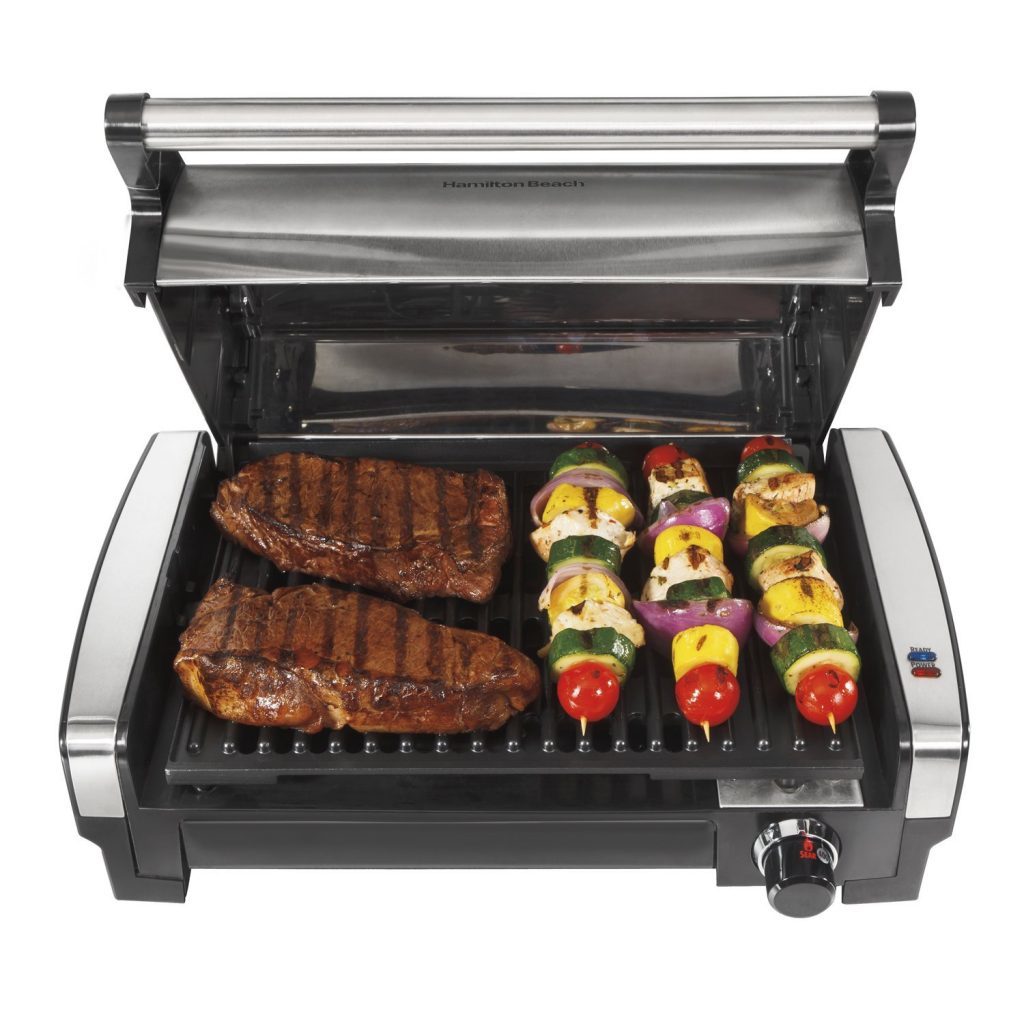 Next, you should go for the removable grid type of indoor cooking grills powered by Hamilton Beach. These grills have many interesting features, such as nonstick and removable grids, which go perfectly in any dishwasher to facilitate simple and easy cleanup.
Specifications
| | |
| --- | --- |
| Features/Specifications | Details |
| Grill type | Indoor grill to deliver outstanding results |
| Heat Sear | Comes with the highest possible ability to sear heat |
| Plate type | Plate is of non-sticky type and has indicator lights |
| Temperature Control | Grill has adjustable type of temperature control feature |
Weber 61010001 Genesis II E-310 Liquid Propane Grill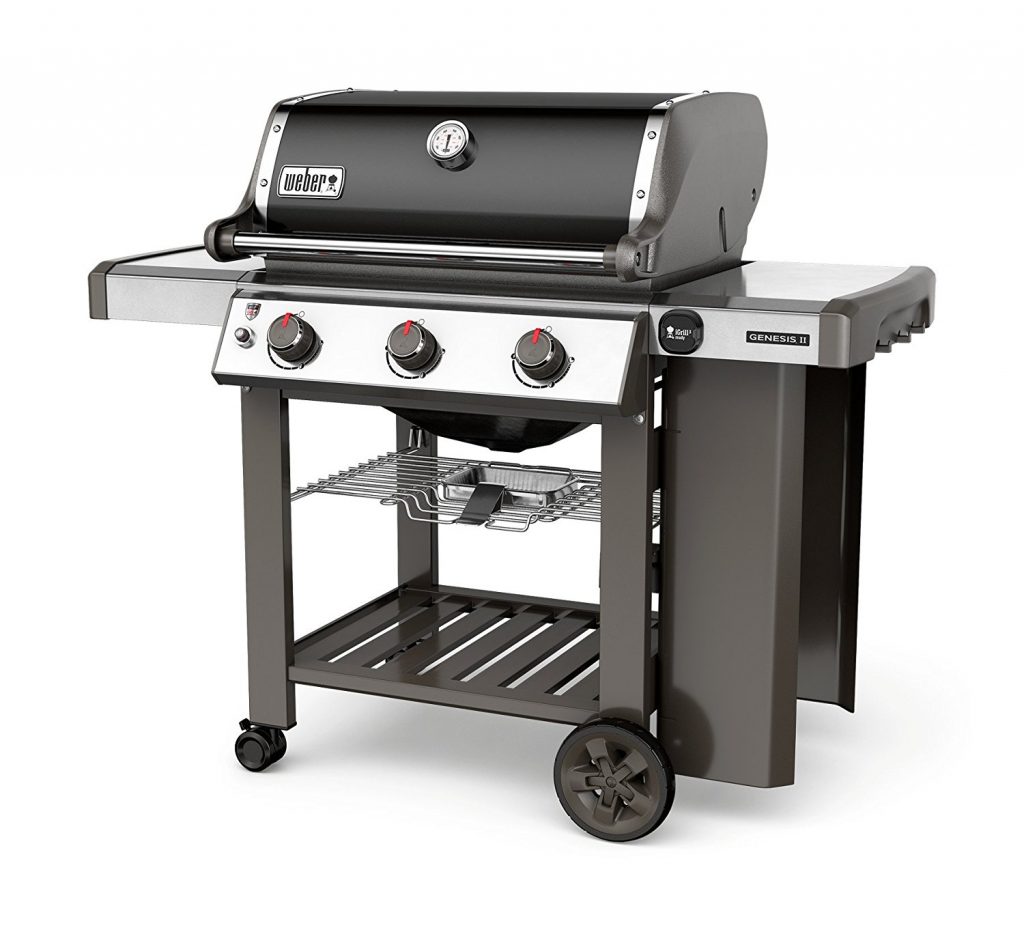 Categorized as a GS4 type of high performance grill system.
This grill has each component with unique design, easy usability and unequaled satisfaction to the grilling experience at the backyard of your home.
Burners of the grill ignite each time so that grills allow smoke infused food evenly and provide hassle-free cleanup after you end the cooking process.
The mentioned grilling system contains four different components, which include flavorizer bars, high performance burners, infinity ignition and grease management systems. Each component makes sure to give you a reliable and easy grilling experience to its users.
Specifications
| | |
| --- | --- |
| Features/Specifications | Details |
| Grill or grilling system | GS4 type of grilling system consisting of various high performance of burner components |
| Cast Iron and Porcelain | Porcelain equipped cast iron |
| Cooking Space and Tuck-Away | 513 square inches cooking space and 156 square inches Tuck-Away thus gives 669 square inches total cooking space |
| Infinity ignition | Grill provides Infinity Ignition via turning the connected knob |